Regular price
$149.99
Sale price
$149.99
Unit price
per
Sale
Sold out
Size Chart
Share
Thicken, big hood with plush lining keeps you warm while walking or biking. A high stand collar protects your neck from wind, rain, and even snow. Special side zippers make this coat more flexible. This men's down jacket is perfect for outdoor and indoor daily wear, casual, shopping, working, or sports in cold weather.
Returns&Exchange

We hope you love your purchase but if you don't, we're happy to process a new order or issue you a refund, easy online returns within 30 days.

Click to learn more about Return & Exchange Policy.
View full details
Size chart-YRF092M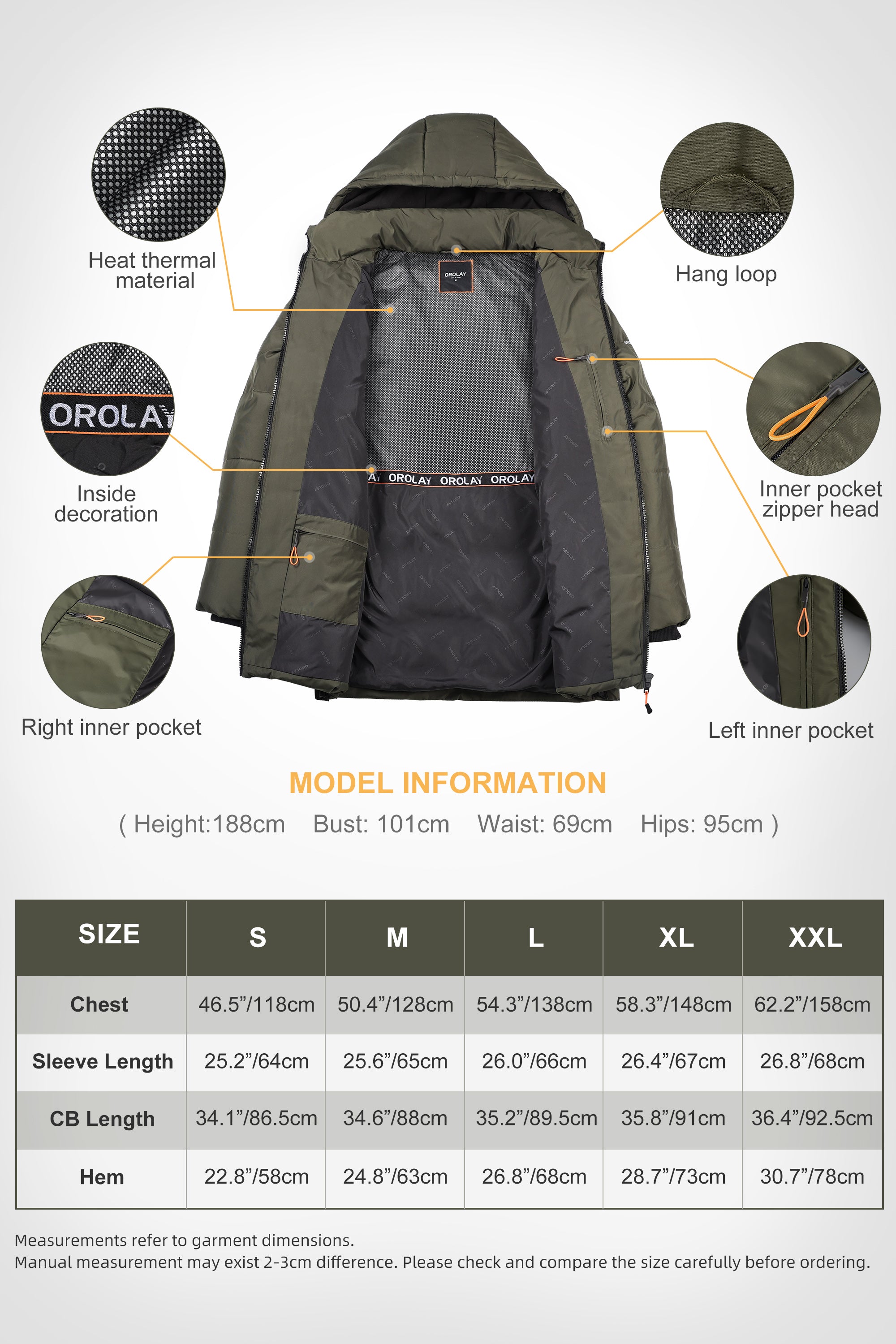 Coat
Best coat ever, amazing quality, very comfortable , incredible price
Good value
I like everything about this Jacket. I like that inside the hood, the fleece is loose so that it fills in empty spaces. If I could improve anything it would be a little more fill with the down and have side pockets for your hands, that way you don't have to unzip the front pockets and insert your hands from the top(but still keep the zip pockets).
This is a fantastic coat!
I ordered this coat as a gift to myself for Christmas. It is fantastic. Its VERY warm and Im so glad I chose one that has extensive length and goes to about mid-thigh. I cant say enough good things about the coat so suffice it to say it does everything its supposed to do and it does it in style.Now there are somewhat negative points about the coat but they are minor but Ill still address them. 1. About a month into wearing the coat, the seams of the the inner sleeves at the wrist which hold the cuff in place ripped and the sleeves pull up my arm away from the cuffs when I put on the coat now. This is not a huge deal as I only have to smooth the sleeve back down my arm and everything is right back in place. 2. Ive always found the zipper on mens coats to be on the right side of the zip, but on this coat (and a couple of others Ive bought in the last few years) the part of the zipper which actually moves up and down is on the left side which seems odd at first and took a little getting used to but as I said this aint my first rodeo and life is about adaptation.Other than these two points, I love this coat which is not weighty at all but is as warm as a weighty coat. The low profile hood (I forgot how it was described when I bought the coat) is really nice and stays out of the way when Im not using it but when it snowed this year and when its rained a few times, that hood sure came in handy. And if I step out for some fresh air, the hood is handy again to keep my ears warm and cozy even as the cold winds are blowing.I also bought one of these for my mother - a lady of some 80 years of life experience - and she has commented on how she loves her coat on two occasions when I called to see how she was doing. And she NEVER commented on a gift before once she received it. She asked me where I got it as she wanted to get one for each of my siblings. So yeah, if you want total perfection , you may be disappointed in this coat. When I heard the tear of those sleeve seams I sure had a moment where I was concerned - but fortunately, it was the coat and not my pants that ripped and it was only the sleeves and the thing is still perfectly wearable and serves its purpose with nobody ever seeing a tear. So for spending $100 for a nice coat that I can wear to work or church or just put to have a walk in the country, Id say I got a good deal and when you get a good deal, you just cant complain. So I love my coat Anas thank you very much for it.
It keeps you warm.
Warmth was what I was looking for and got it in this coat. I would have liked 2 more unzipped pockets to put my hands in to keep them warm. Also, the zipper appears to be a female zipper. Otherwise, its a good buy.