Regular price
$189.99
Sale price
$129.99
Unit price
per
Sale
Sold out
Size Chart
Share
This Orolay winter jacket is crafted from water and wind-resistant 100% polyester fabric and uses renewable eco-friendly fabric to implement the concept of environmental protection, soft to the touch, fluffy with high resilience, excellent strength, and warmth, and the casual version is not bulky. It is a good choice for your cold and warm clothing in autumn and winter.
Returns&Exchange

We hope you love your purchase but if you don't, we're happy to process a new order or issue you a refund, easy online returns within 30 days.

Click to learn more about Return & Exchange Policy.
View full details
Size chart-OW220549W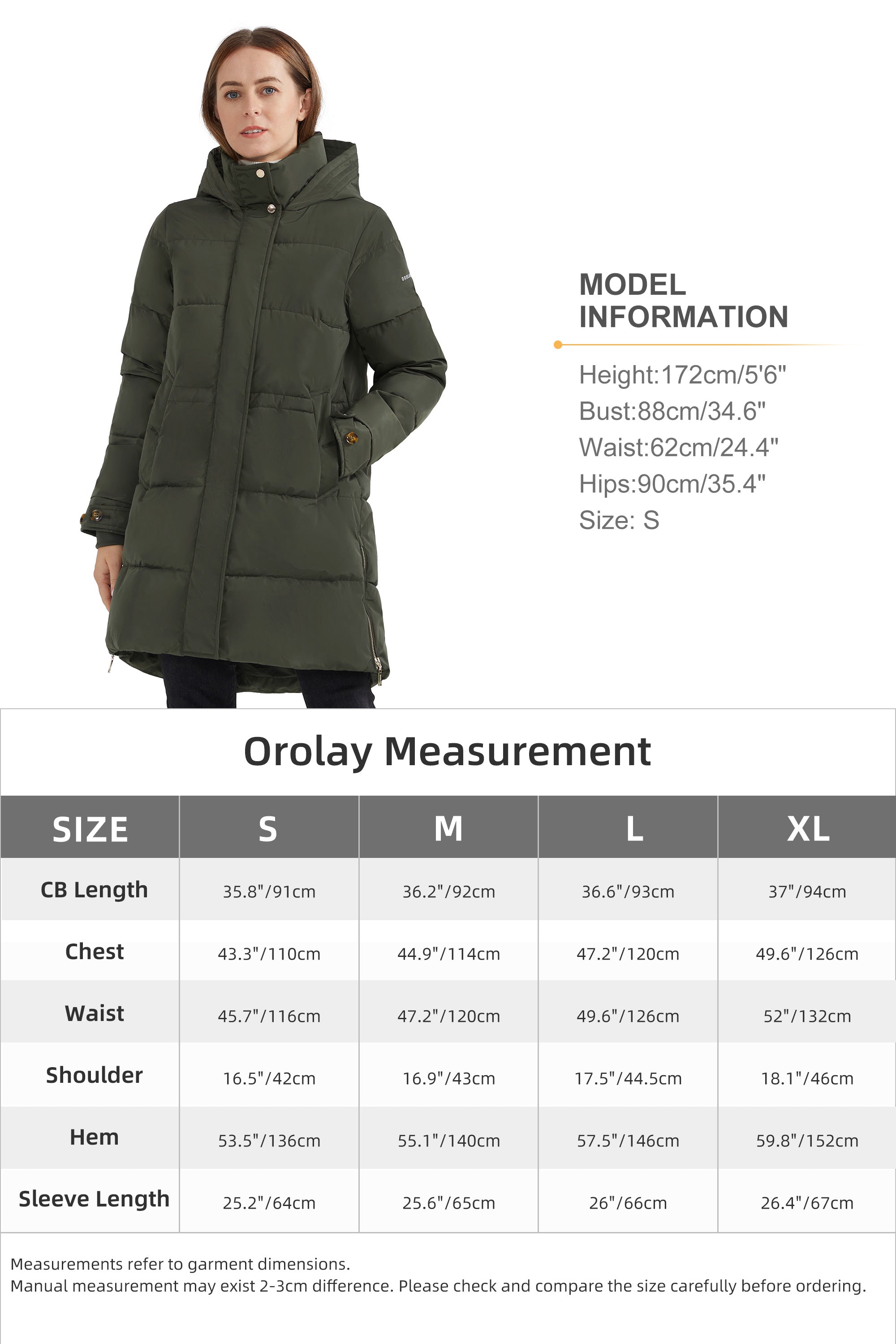 Water Repellent
This durable, ultra-lightweight fabric is designed to withstand high winds, light rain and snow. Made from 100% polyester with a water-repellent finish, stay dry and comfortable in unpredictable weather.
Recycled Filling
The polyester construction is made from 100% recycled materials, so you can rest assured you're choosing a product that will not only protect you but also the environment.
Revised review
I was asked to review this item before I received it, which I did. This is my revised review. The coat is great. It's super warm. The material is thick. The price was good. I would buy Orolay again for sure. Shipping took 17 days. My cousin had an Orolay coat which was how I saw them, but she purchased on Amazon and received in 2 days. I'd probably go that route next time. Not Orolays fault. I believe it was held up in customs.
Warm winter jacket
This jacket is amazing! So warm and makes the colder weather more bearable all while being stylish.
Good and bad points
Hi guysI want to share my experience about this itemGood points1-keep warm2-head part is one piece and good for windy and cold weather3-have adjustable part4-hand extra cover on hand part5-quality is acceptable6-soft and comfortable7- long enough8-zip is not sharp and it is safe and work in two wayBad points1-expensive for this price and quality2-should have fur in some part and it is very simplePlease let me know if you have questions
Warm; don't like the zipper
This is a warm coat that I like, but don't love. I appreciate the generous hood, which has drawstrings so it can be tightened against wind/ precipitation, the high collar, and the ribbed cuffs (no thumbholes, sadly). The fabric is definitely water-resistant, as it kept me dry in a light mixed rain/ sleet drizzle, but as I have not tried it in heavier precipitation, cannot speak as to how well it performs. Unfortunately, the zipper is not the smoothest, and can be difficult to get started (not good if I'm standing out in the cold), though it does offer the ability to unzip it from the top or the bottom. The buttons on the outer hand pockets are inconvenient (if I am wearing a coat of this thickness, then I am also wearing gloves, and gloves and button do not mix well), though I do like the fact they have a fleece lining for warmth. There are also two pockets inside the coat, which are very large (they can hold gloves, small scarf, phone, or whatever) that secure via velcro. There are drawstrings inside the coat to cinch the waist, though for my body I'm not sure it is very flattering (see my pics with the coat worn both cinched and uncinched). The side zippers which expand the coat's width seem more like a style choice than a convenience, since they don't offer much extra room for movement. The black coat is a true, dark black, and has a gold zipper, gold snaps, and brown buttons.As for sizing, I am 5 foot 7, weigh 165 pounds, have a 36C bust with narrow shoulders and a short torso, carry most of my weight in the middle, and wear a US women's size 10 (medium sizes at Old Navy and H&M). I always buy coats and jackets in a large to accommodate sweaters or hoodies, and I ordered this coat in the "large" size, which fit perfectly and is very comfortable.Overall, this is a comfortable, warm coat that fits true to size, and I'm sure it will see a lot of use this winter.