Regular price
$279.99
Sale price
$159.99
Unit price
per
Sale
Sold out
Size Chart
Share
This parka jacket uses unique water-resistant technology, with excellent breathability and moisture permeability, the design of the back storm shield gives the down jacket a great windproof effect. Inner adjustable elastic drawcord waist, ribbed knit cuffs, make this coat more functional. The back storm shield with 2 reflective strips, which is easier to be identified at night. Suitable for outdoor activities such as hiking, camping, walking, or daily wear. 
Returns&Exchange

We hope you love your purchase but if you don't, we're happy to process a new order or issue you a refund, easy online returns within 30 days.

Click to learn more about Return & Exchange Policy.
View full details
Size chart-OME6268X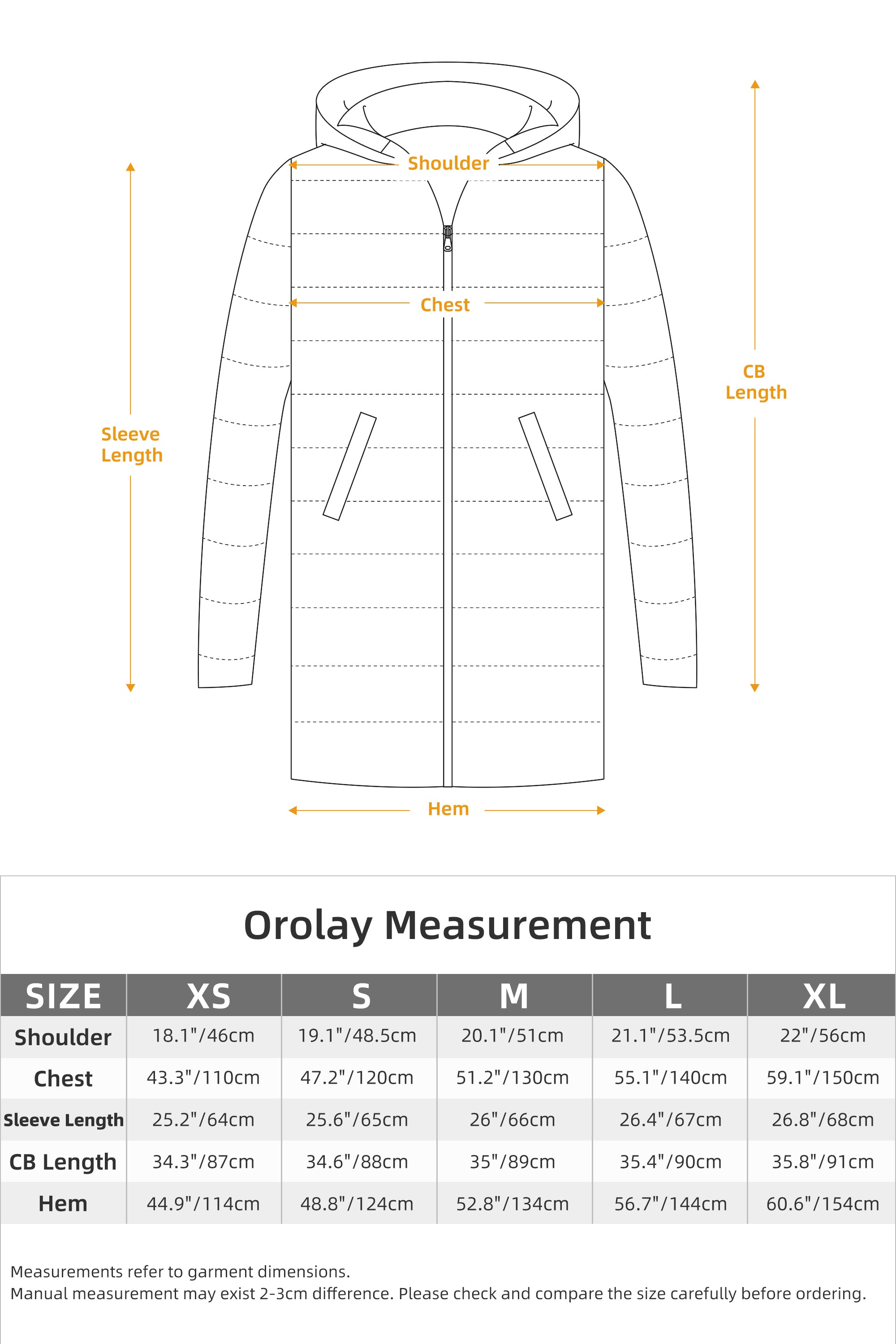 Excellent warm overcoat
I needed a warm, insulated, waterproof overcoat with a hood. I ordered a size small. I am 5'6" tall and 150 lbs, with a wide, athletic, slim frame. This jacket fits perfectly, and goes down to about 3" above the top of my knee (just past mid-thigh). I have short legs but the length is really OK, I wanted something that would cover my hips and basically shield me completely in cold temps. The shoulders and chest are the right size and I have plenty of room to add layers and plenty of freedom of movement. It does not look too big on me; it basically looks like the photo but it is an inch or two longer on my frame than on the model's.Pros: It has elastic closures at the wrists which is really nice; I have short arms and the arm length is not too long or too short. It is extremely warm. I went for a hike in 45-50 F degrees on a sunny day in jeans and a tee shirt, and wore this coat because it was breezy. I had to take it off for a while because I got a little sweaty in it. I wore it in temps below 40F at night, with a stiff breeze and felt very comfortable waiting for the bus. The side hand pockets are great and so are the many other pockets. The jacket zips up completely and has an optional hood shroud that protects the neck area (velcro closure). The hood is easy to put up or down with one hand. After wearing this coat for a week in Portland, Oregon in November, I felt like this would be the only coat I would ever need if I decided to relocate there. Strangely, it didn't rain at all, so I have to post an update after putting the waterproof feature to the test. When traveling, I was able to stuff this into my backpack (although it was not easy), and then take it out inside the airport before heading out into the cold Portland night to catch the Red Line train.Cons: The hood on this jacket has an extra flap that turns the hood into a "super hood" that is capable of blocking rain that might be coming in at an angle. Unfortunately, unless you wear a sizable hat, the flap will block your vision because it comes down too far in front. You can fold it in (see photos), but it doesn't stay very well and maybe a stiff breeze would be frustrating. I had my local seamstress sew in some velcro so I can just fold it in semi-permanently. Unfortunately she had to hand stitch the velcro to hide the stitches from appearing on the outside of the hood. She did a perfect job but it was $60, so maybe something to consider. I really like the option of having the flap in or out, and having it stay put, so this being a permanent garment for all my needs, I decided to spring for the alteration. Even with the flap folded in the hood is a bit large, but you should be able to wear it without a hat and still see well, and it looks great with or without the neck shroud. Also, although this is somewhat minor, the zipper is not the best. It is of good quality and quite sturdy, and I'm not concerned with it breaking, but it is a pain to get started. You can't do it with gloves on, and even with bare fingers, it has to be just right or you can't zip it without causing a problem that might damage the zipper. I have had zippers get caught on jackets and it is a nightmare and can cause damage to an otherwise good jacket. So I would be careful and practice staring the zipper. It is a typical zipper design, but it is the two-piece receiver style, and it just moves around a lot and it's hard to get everything lined up right. I deducted one star from this jacket because of the hood and zipper, but I don't have any regrets about buying it and I think it is an excellent value. One final note is that there is a bungy cord inside the jacket that can be used to cinch the waist. I have no idea why this feature was included and I ignore it. Unfortunately when the coat is worn open, in dangles around and seems like a nuisance. I am thinking about just cutting it and removing it. This is a good down coat that gets the job done and costs much less than comparable insulated coats from the big brands.
If you value warmth..
Get this jacket. It was 20 degrees and I was outside for an hour with this coat open with no problems.
Prefer winter coat, just make sure you order one or probably two sizes smaller than normal.
Jacket is perfect for the winter. it will keep you warm during the snow. The jacket is a lot larger than expected. I ordered a small when I normally wear a medium and large
Warm and good looking
Nice jacket.Stitching seems to be good quality work.Stretch sleeve cuffs are really great to keep the cold from creeping up sleeves during high winds.The zipper mechanism is sub par. Not easy to insert.
Good design and quality for the price!
This is a light to medium winter coat. It may not be ideal for the extreme cold weather but good enough for mild winter days in most of places in the US imho. I'm in Buffalo NY area and it's been about 20-40F degrees recently and I only wear a T-shirt alone with the coat when I am out. I guess the coat can hold up to to 0F or so if I add more layers underneath. Looking to test it out in the later days.Also a heads up that this coat may run big than you expect. I am 5'11'' and around 170 lbs. I mostly wear M for all of my tops. This coat of M is too big to me so I exchanged to S which fits me well.Overall it has a very nice and durable exterior design, lots of utility pockets, surprisingly high quality of interior layer at an affordable price. I am very satisfied with the purchase.